HP Blade Servers
On-demand power with ultimate manageability.
Specification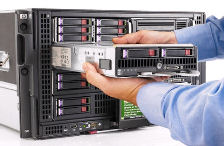 HP BL460c c-class Blade Server
Quad-Core Intel® Xeon® E5430 (2.66GHz, 1333MHz FSB, 80W) Processor
4GB Fully Buffered DIMM PC2-5300
2 x 146GB 10,000rpm SAS drives in RAID 1 (mirrored) configuration
Embedded Smart Array E200i SAS Array Controller with 64MB cache
2 x Gigabit Ethernet NICs
Integrated Lights-Out 2 (iLO2) management
This is our standard build specification. Custom specifications are available on request, however choosing the standard build enables us to hot-swap your blade in the event of hardware trouble.
From £400/month all-inclusive (£150 setup).
Standard features
Integrated Lights-Out Management: Enables you to control the keyboard and mouse (IP KVM) from a Java-enabled web browser anywhere in the world, even when the server is booting. Power cycle instantly whenever you need to. You can even connect your local DVD drive or image to the blade to enable you to install an operating system. It's just like being right in front of it.
Gigabit Ethernet: All servers are connected at 1000Mbps to our Gigabit backbone and are capable of bursting (unless you request otherwise).
Private VLAN: Your servers are placed on a private VLAN enabling secured communication between them, and ensuring that you are not charged for inter-server transfer.
Operating System: The latest release of Debian GNU/Linux is installed as standard. Other operating systems, virtualisation systems or software installs available on request.
Full Open Source software suite: Your server is installed with the Apache 2 web server, MySQL database, PHP 5 and associated libraries and packages, enabling you to start hosting websites immediately.
Internet Bandwidth: 128kbps (95th percentile) transit is included in the package.
IP Addresses: 3 usable IP addresses are included by default.
Monitoring: We monitor your server and notify you if it becomes unavailable.
Additional options
OS installation: We can install an alternative operating system for you if you wish. (N.B. you are responsible for arranging any necessary licensing and remaining in compliance with the license terms).
Software installation: We can install any software you may require.
Control Panels: We can install Plesk or cPanel/WHM or your choice of control panel to allow simpler management of your server via the web.
Systems Administration: For most operating systems, we can offer the services of our qualified sysadmins to manage your server as required, either on a one-off basis, or with a set number of engineer hours per month.
Additional Storage: If you need more disk space, we have storage arrays to meet your needs. You can access your disk space using the standard iSCSI protocol over your regular Gigabit Ethernet port. This makes the disk appear as a normal mount point or drive letter on your server. The iSCSI system will be in your own private VLAN, so you are not charged for transfer.
Online Backups: We can arrange scheduled or continuous backups either locally or offsite, to a schedule you specify.
Additional Bandwidth: Please contact us for a quote.
Additional IP Addresses: If you need more than 3 IP addresses, we can allocate you a larger block of addresses. This is subject to justification per RIR policies.
Custom Monitoring: We can monitor specific services, applications or status (such as available disk space) on your server.