Hosted Storage
iSCSI solutions for cost-effective storage.
Introduction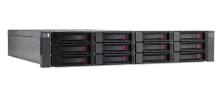 Our iSCSI hosted storage solutions are the cost-effective answer to large storage requirements. Expand your server's capacity with on-demand network-attached storage solutions. Scale from 500GB to 7500GB and beyond and ensure your costs are kept tightly in line with your requirements.
Specification
HP MSA 2012i SAN controller and drive array (shared)
Gigabit Ethernet connection within your private VLAN
Space starting from 500GB in 500GB increments1
RAID 5 configuration for data-protection, with an additional hot spare always online
Fully monitored by Sargasso's 24/7 NOC
Why hosted storage?
Our latest-generation iSCSI SAN allows you to manage your data growth more cost effectively. Easily scale to growing storage requirements across one or more servers via a centralized shared storage solution that eliminates your up-front costs. iSCSI also leverages your existing built-in Gigabit Ethernet port so requires no further hardware investment on your part.
Our hosted storage also allows you to buy storage as required to match demand. Adding iSCSI drives is a virtual procedure and they can be added to your account at any time.
Your data security is assured as our storage solutions are partitioned into private areas per client. Access to your data occurs solely over your private VLAN, eliminating privacy concerns.
What is iSCSI?
iSCSI is the industry-standard protocol for network-attached storage. An evolution of the time-tested SCSI system, instead of being connected by a physical wire, it is accessed over TCP/IP using your Gigabit Ethernet port.
iSCSI drives appear as regular block devices to your server, so they appear as a new drive letter on Windows, or as a mount point on Linux. If ordered with a dedicated server, we will pre-configure the server for you so the drive is immediately ready for use.
Suggested applications
On-line storage of large amounts of data such as images and video files
Storage consolidation and improved space utilisation
RAID-protected data storage
On-site or off-site backup
Disaster recovery
Data with increasing growth rates
On-line data archival
Pricing
| Space1 | Setup fee | Monthly fee | Transfer |
| --- | --- | --- | --- |
| 500 GB | £100 | £200 | Unlimited |
| 1000 GB | £100 | £250 | Unlimited |
| 2000 GB | £100 | £395 | Unlimited |
| 4000 GB | £100 | £640 | Unlimited |
| 5000 GB+ | POA | POA | Unlimited |
Notes
1 In common with storage industry standards, 1 GB is 1,000,000,000 bytes